I Have No Friends§
by Russell Dyer
published: january 15, 2016; revised: september 03, 2017; readers in past month: 223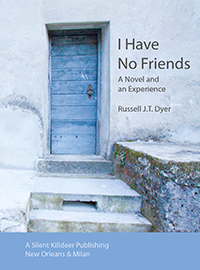 I Have No Friends
author: Russell J.T. Dyer

published: 2016

publisher: A Silent Killdeer

isbn: 978-0983185437

pages: 295
Based on some Google statistics related to my writing site, I discovered that there are many people who have read articles I have written over the years about living alone and being more selective about friends (i.e., good friends). So, I decided to write a novel about a character who has no friends, but through the course of the novel comes to understand friendship better.
You can see here how the front cover of the book will look. Below is the description of the book from the back cover.
The story of a young woman named Lena Demuir, who wakes one day to find herself alone and feeling unloved. Lena has no friends, and a family who unknowingly push her away from them.
Lena tells everyone she is fine, and herself that she prefers to be alone and without friends. But a long-term colleague, as Lena calls her, named Lexi and a strange mad woman she encounters who predicts her future, see things differently for Lena.
Faced with the beating drum of her destiny, Lena tries to avoid the path before her, but life won't let her. Mostly, Lena tries to avoid having friends, to avoid friendship. In the end, she comes to see people differently; her understanding of friendship evolves from her experiences.
You can now purchase this novel on Amazon in Kindle version and in print. It was released on January 15, 2016. If you buy the print format, you can get a copy for Kindle for only 99 cents extra. If you'd like, you can read an excerpt from the novel.