Одиночество Лины§
by Russell Dyer
published: january 15, 2016; revised: april 01, 2018; readers in past month: 110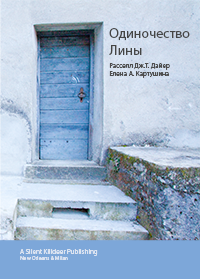 Одиночество Лины
author: Russell J.T. Dyer

published: 2016

publisher: A Silent Killdeer

isbn: 978-0983185451

pages: 295
This is a Russian translation of my novel, I Have No Friends. The translator is Elena Kartushina, who was one of my editors when I wrote it in English. She has finished translating it. The proofreaders are also finished. We just need to make corrections based on their suggestions and the novel will be published. Then it will be available for sale in Kindle and print format on Amazon. We will also try to find a publisher or booksellers in Russia to carry it.
You can see here how the front cover of the book will look. We changed the title, though. It's now called, Одиночество Лины, which translates basically to the "The Loneliness of Lena".
You can't yet purchase this novel in Russian. When it's available, we'll update this page with a link to the novel and information on where you can buy it. For now, you may read the initial chapters on this site. If you do, please let us know if you catch any mistakes. It's still in rough form—it hasn't been proofread thoroughly or edited.