New MySQL Book§
by Russell Dyer
published: january 27, 2011; revised: january 27, 2011; readers in past month: 92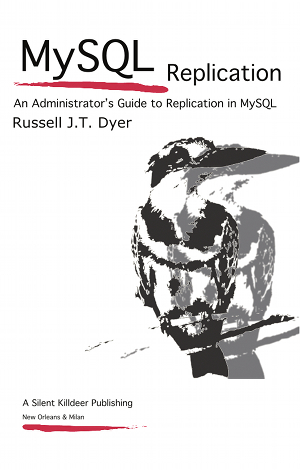 Some time last year, I felt a need to do some writing. In particular, I was interested in doing another book in the area of MySQL software. I had written two editions of MySQL in a Nutshell and that has been going well for me. I didn't want to write anything that comprehensive. Instead, I wanted a topic that would span one hundred to two hundred pages.
MySQL Replication seemed like such a topic. I've struggled with it several times over the years and found very little written about it. What was written was generally not well written or only a brief chapter in a book. The thing about MySQL Replication is that it's deceptively simple. It seems so easy to set up. However, it will inevitably stop running. Trying to get it going again can be so frustrating. It's especially frustrating since it's easier to get a new installation going than an existing one. Rather than delete everything and start over, we tend to struggle with what we have. Of course, there are also times when administrators have difficulty getting a new installation to start. The point is that there's a need for such a book.
MySQL Replication isn't very difficult, if you understand what it's doing and if you understand how to read the logs it generates, the various SQL states and all. I spent a lot of time asking questions of friends and colleagues at MySQL where I used to work, people in support and training and other departments in which they have worked extensively solving problems related to MySQL Replication and explaining it to clients. I asked many questions as to what is exactly going on at every possible stage. I would write and rewrite a paragraph of text about some small component or phenomenon. Then I email it to them, chat with them about what I had written until it was clear to me what they were telling me and clear to them in my writing that I understood.
I believe the results of my efforts and the absurd amount of research I did is that I've written a book on the subject that is easy to understand and read for beginners trying to learn about MySQL Replication. Plus, it's an extremely useful reference for more advanced administrators, for when they have problems and just can't figure out what's wrong with their servers.
Besides improving my skills as a writer and editor, I decided that this book could be another opportunity for me to gain more experience as a book publisher. I could have shopped the idea to some of the big technical book publishers — I have a few contacts at some of them. However, I decided I would learn more about being a publisher by self-publishing it. Because of this, I self published it through Create Space, a subsidiary of Amazon books. Create Space is operating as the printer of this book. My own publishing company, A Silent Killdeer Publishing is the publisher. I had to get the ISBN number, do the layout of the text, and all of the other aspects of the book. I also worked with a graphic designer here in Milan and created the cover of the book. Incidentally, the image she created for the front cover is that of a kingfisher bird, a neat bird that can be seen around where I used to live outside of New Orleans. The image she made is doubled or a replicated image, to tie into the theme of MySQL Replication. It may be difficult to see it from the cover shot shown on Amazon's site. However, I've received a few proof copies of the book. The image and all came out nicely.
I hope that many of you will order a copy from Amazon — not because of the money (I only make a few bucks off of each book), but because I'm proud of the work I've done and hope that many people will appreciate it and benefit from it. If you want to buy a copy, click on the image of the book cover on this page. If you buy a copy and like it, please let me know and especially let others know about it.